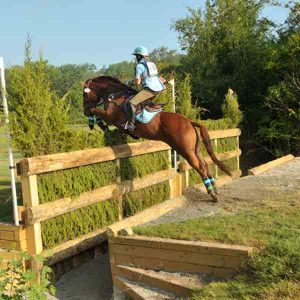 How I Stay Fit
Hey everyone! I hope you all are getting ready for Christmas! And as well all know one of the best parts of the holidays is food, food, and more food. So my question to you is: How are you staying fit this winter?
As an eventer, I am an athlete and it is very important for me to stay fit during the off-season. During the show season the importance of being fit is even more critical. One of the hardest things for me is to watch a horse out on cross-country near the end of the course having to pack around his tired rider. That is how accidents happen. A good guide for me to know if I'm fit enough is if I can go out and jog my entire cross-country course without taking a walk break. This is a pretty good rule for any level. If you can jog the cross-country course for your level you are maintaining a good fitness level. But that is not the only thing you need to be fit for this sport. Your core, upper and lower body need work too.
Since my horses are getting a slight holiday break for being so good this year and because the weather has been impossible to do much more than a quick hack, I've joined a gym and I'm working out at least 5 to 6 days a week. I run every day, and every other day I work on weights, to work on my core and everything else.
My personal trainer says Pilates is a great type of exercise you can do for riding. It works on your core and your overall balance. He also recommended swimming because that is good for your shoulder muscles. He said riding is one of the few sports that demands both aerobic and anaerobic exercise.
Aerobic exercises are longer-duration and lower-intensity, while anaerobic exercises are high-intensity and short-duration. He also said riding uses all your muscles, whereas in some sports you develop specific groups of muscles.
You'll probably be a little sore the first few times you go, but I figure if I put my horse through it, I can stick it out as well. Plus I can eat and not feel guilty!
Until next time, safe rides!
Megan