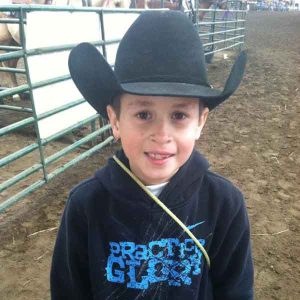 Awesomeness!
Hi everyone! Sorry this is a little late, but I'm new to blogging. I took Yogi to a KJRA rodeo on November 3rd & 4th in Liberty, KY. Actually my mom and dad took us and we got there late Friday night. I was so tired I fell asleep on the way there and went right in the trailer to bed as soon as we got there. My goal going into this rodeo was to get, and keep, Yogi loping in the Boys Goat Tying 1B, which is a timed event. Sometimes Yogi can be a little lazy and would rather trot everywhere he goes. But in Goat Tying the fastest time wins so we both have to do our part. On Saturday I was able to get him to canter about half way to the goat and after I tied it we got a time of 32.357, good enough for 3rd place. Sunday went even better. Yogi and I loped pretty much the whole way to the goat, I got the goat tied and we won 2nd place. Our time was 21.631, my personal best! This was definitely my favorite day! I was really happy with Yogi!
My other events, which you don't need a horse or pony for, are Boys Chute Doggin' 1B and Dummy Roping 1B. Chute Doggin' is very hard and I don't even remember much about what happened when they let that calf out of the chute. All I know is I didn't get a time on either day. It's a lot harder than it looks! In Dummy Roping 1B I'm happy to report I got 1st place on both days. Awesomeness!
I had a really good time with my friends too. Someone built a bonfire and we spent a lot of time by the fire. My jacket and cowboy hat smelled like campfire after the rodeo. It was really fun watching my friends compete too. It's exciting when they do good in their event or get a personal best time. We all like to root for each other. We all (including our parents and horses and ponies) left Sunday night tired and ready for some rest. But not for long, because practice makes perfect!
Hasta la vista,
Caden & Yogi