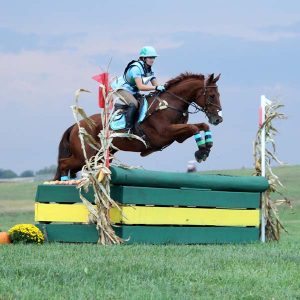 Boot Camp
Hi everyone! Sorry it has been so long. I have had a busy but incredible past few weeks between the American Eventing Championships and then spending a week with Missy Ransehousen at her home to prepare for Plantation Fields Horse Trials, which was an amazing event.
After Hoosier had so much time off due to his health issues, I wasn't sure if I was going to be pushing him too much by doing two tough events only two weeks apart. Hoosier quickly showed me that he felt plenty fit when he almost bucked me off right after I got on for my first lesson with Missy.
But before I get into my amazing lessons, I have to say I have never felt as welcome as Missy and her barn family made me feel. Everyone was so nice and helpful about everything! They really are team players by helping each other out any way they can to get the job done. Some days after my lessons I would be taking care of Hoosier, and my new friends would already have my tack cleaned, just because that's what you do there, you help each other out. Now don't get me wrong—I didn't just sit around and watch them work, I tried to jump in as much as possible to help. It was so educational being at a place that takes such good care of their horses, and learning the little details of horse care they do that helps them perform at their best. I also got the opportunity to ride BG, or as most of you know him, "Critical Decision," and many other of Missy's nice horses.
Now on to my lessons. All I can say is I need to do more sit-ups! She was so detailed and specific in what she wanted, but so encouraging at the same time. She is very into getting me to use my body to get the movements out of Hoosier versus so much leg and hand action. As far as jumping, the first thing she picked out was that Hoosier and I both like our long spots, and she hates long spots. So she had me compress his stride, make him more up, with lots of energy, which put him closer to the base of the fences; therefore, he had more scope over the fences, and yet make his takeoff and landing so much softer on his joints. So after a week of these lessons, we went to Plantation and you could tell our hard work paid off.
My average intermediate dressage score dropped about 9 points. I scored 27.6, which tied me in fourth place with Karen O'Connor. It was the toughest intermediate division I've been in, with Bruce Davidson and Philip Dutton the other two ahead of me. Even though I had 3 rails down in stadium it was my best stadium round. It was energetic, yet controlled, and we didn't have a bad spot. Missy said the rails were mainly because he needs to get more comfortable jumping from the closer distances. We shared the exact same course as the CIC** and Hoosier rocked around it. There were a few jumps I wished I would have ridden better and we didn't make time because I was afraid to push him too much because the course was hilly. The last 3 minutes of our course we were climbing uphill. But he was recovered within 10 minutes so he showed me he was plenty fit.
It was such a great and fun show. I want to thank Missy so much for taking the time to help Hoosier and me, and for being so informative. I learned so much from just being with her for a week. I can't wait to see what I can learn from her with more time. I encourage anyone given the opportunity to meet and take a lesson from her; you won't regret it, that's for sure!
Until next time, safe rides!
Megan