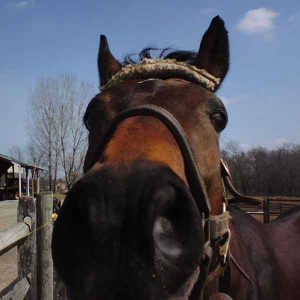 "Barney loves Neigh-Lox and Summer Games."
"My horse is a 13yo OTTB named Barney. He's dark bay and 16.2 hands. We do Training level eventing and are slowly making the move to Preliminary. This year we were 7th in the training level 3-day event at Southern Eighths in South Carolina.
The KPP supplements I use are Neigh-Lox and Summer Games Electrolyte.
Barney has had colic surgery and is prone to ulcers, so he gets Neigh-Lox 3 times a day with each meal to reduce the acid in his stomach that can lead to ulcers.
I use Summer Games Electrolyte when it's hot and humid (which was all summer this year) or when traveling to ensure he keeps drinking water to stay hydrated.
Barney loves Neigh-Lox and Summer Games. I love your products!"
Thank you,
—Gwen Kriskie and Barney