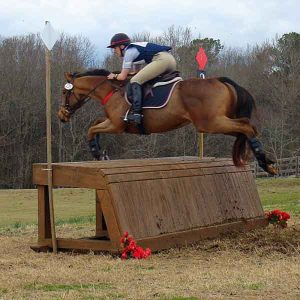 "We feed Neigh-Lox to all of our horses that compete."
"Elliot, lovingly called Smellie, is an 8-year-old track horse. His first two races were at Churchill Downs and he had a yearling reserve price of $75,000. Needless to say, he was a terrible race horse—started strong then all but gave up midway through. He ran a total of six times before ending up in a sale in Louisiana. Which is where a friend of ours picked him up.
Smellie was skinny and scrawny and covered in rain rot (hence his nickname). We fed him and put him into regular work. Turns out he is a fabulous mover, an even smarter jumper, and has a tremendous gallop across the country. The only catch is that he is also a worried TB. The first year he competed seriously he had two gas colics, which were treated and didn't seem to cause much more trouble. And even though he was on a good diet, he looked ribby and his coat was dull. We put him through an ulcer treatment program including feeding him Neigh-Lox religiously. He put on a couple hundred pounds. His coat became coppery and shiny (top left photo). And his gas seemed to get much better.
He really came into his own and ran his first preliminary horse trials like a rock star in spring of 2010. Soon after, however, he strained his superficial digital flexor tendon behind and needed 8 months rest. Because of the vet bills and cost of his rehab, we let his Neigh-Lox lapse. When he finally started coming back into work in November 2011 he suffered a very serious colic and spent nearly 4 hours on the operating table while the vets tried to untangle his large and small intestines and his cecum. We were lucky he made it through his surgery without re-sectioning any of his gut or any other complications.
After a long, slow recovery, he is back rocking around preliminary, usually finishing within the top 8 and second at his last, and about to run his first CCI*. I have had many top professionals admire Elliot. Jim Graham and Stephanie Baer tell me regularly that he is very special and that he will be a big-time horse. Moreover, he will be a big-time horse that wins (though you should probably never say this until it is done). We feed Neigh-Lox to all of our horses that compete. We travel all over the south and the east coast so our horses are all under a lot of stress. I feel better feeding Elliot Neigh-Lox and it seems to keep his tummy much happier!"
– Jessica Shull