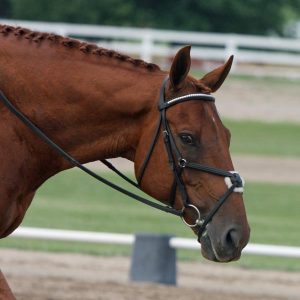 Show Time
Hey guys! I hope you all are taking advantage of this wonderful weather if you're in the Bluegrass! If you didn't take advantage of riding or at least playing with your horses this past weekend, then you may want to question owning a horse 😉
My weekend was exciting. I took one of my babies to his first combined test and boy was it interesting. I feel like we totally won the dressage warm-up, but once he had to go in the ring we kind of fell apart. First, he had to read ALL of the letters to see if they were in place and more importantly not going to move. Once we actually got in the arena he was either trying to walk, take off, or buck. The plus side in having such an interesting test is the standard was set pretty low, so hopefully it won't be too hard to improve for the next time. That's why we do this sport, right? Not always for the blue ribbons but to improve and get better.
On another note, I have exciting news….HOOSIER AND I ARE ENTERED IN OUR FIRST EVENT BACK! Can you tell I'm excited? I signed him up for the American Eventing Championships in September to run prelim. I dropped him down because I knew it would be a tough prelim and because I wanted to see how he felt after his health issues. Also it will be good to do prelim to get my own confidence up since I haven't shown since May. So now I'm working on his fitness, and lots of dressage, to make sure he is well prepared.
But I want to know who else is going? What are you all doing to help prepare yourself so you're in tip-top shape for the AECs?
Until next time,
Megan