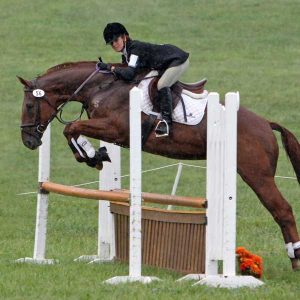 Hoosier Finds His Niche
Since there aren't any big events coming up I thought I would introduce you all to my current upper-level teammate and explain how he ended up being a part of my life. I am and have been a firm believer that every horse is good for something; they just have to find their niche. Let's just say that Hoosier's niche was not on the racetrack.
My best friend in high school decided that she would like to try eventing, and while searching the Internet she found a 16.2 hand chestnut Thoroughbred named Hoosier Daze in Louisville, Kentucky.
I tagged along with my friend to help try out the horse and he seemed like a perfect match for a beginner rider. Shortly after they brought him home to Versailles, Kentucky, he had quite the change in disposition. After a nasty incident, my friend ended up with both arms in a cast. Shortly after, a trainer was called to try Hoosier in hopes that they would take this suddenly rank horse off their hands. That idea was subsequently squashed when Hoosier introduced the trainer's backside to the hard ground.
The next call was to my mother, and the next thing you know he joined our team in Nonesuch, Kentucky. For six months after we got him he bucked every time my mother asked him to canter. Progress was slow, but his first show was an indication of the type of horse we had been blessed to receive.
My mother took him Starter at Octoberfest and lo and behold, he won. After witnessing this we decided he should be mine. This decision turned out to be one of the best we have ever made.
Hoosier has taught me so much. I am a better rider because of him and more importantly he has helped me become a better person. How is that possible, you may ask, that a horse can make a person better? Hoosier has taught me how to deal with the ups and downs of the sport and how to handle the successes and failures.
So, when asked what Hoosier's niche is, the answer is easy. Hoosier is an eventer!
Check back next week to find out how my long-term horses get assigned a song.
Until next time,
Megan