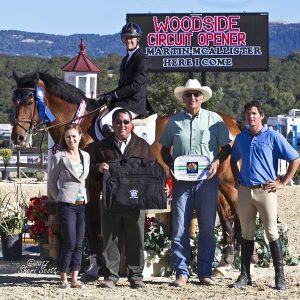 KPP Congratulates Jenni Martin-Mcallister
KPP congratulates our sponsored rider, Jenni Martin-McAllister, on her recent win with Here I Come in the $15,000 Woodside Jumper Classic and the $2,500 Open Welcome Stake in Woodside, California. Jenni also had the top two places in both classes.
"I had the week of my life. I won every class I entered in the Grand Prix Ring," claimed Jenni.
Click here more information from LEG Up News.
KPP would also like to wish Team McAllister luck with their move to Flintridge Riding Club.
Click here for more information on their move.
Photo courtesy of Sheri Scott Photography