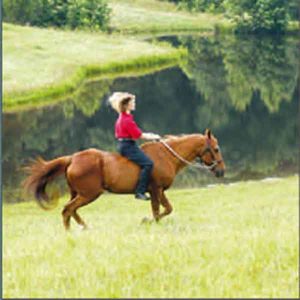 Cool Energy – A Complete Turnaround With Equi-Jewel
Improved stamina and weight gain are among benefits of feeding horses Equi-Jewel rice bran supplement.
A complete turnaround — that's how horse owners Jessica Young of Morristown and Michelle Conkle of College Grove describe the change that Equi-Jewel has made in their mares.
Feeding this stabilized rice bran supplement has helped to "bulk up" the tall, thin frame of Jessica's 7-year-old appendix Quarter Horse, Angel, and has made the mare's hair coat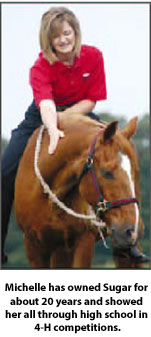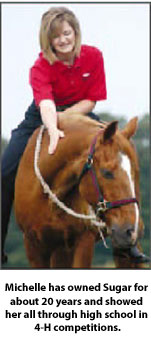 shinier and sleeker. Jessica even attributes her improved time in barrel-racing to the addition of Equi-Jewel to Angel's diet.  And for Michelle, adding Equi-Jewel to the diet of her 30-year-old Quarter Horse mare, Sugar, may have meant the difference between life and death for the retired show horse. Last year, the aging equine had lost so much weight that Michelle and her mother, Wanda McClure, were concerned she wouldn't make it through the winter. But a change in the horse's diet, including the addition of Equi-Jewel, helped Sugar gain some 200 pounds and regain her health and strength.
"The results we've seen from these two horses are remarkable," says Kim Smith, Tennessee Farmers Cooperative equine specialist, who helped Jessica and Michelle put together their feeding programs that include Equi-Jewel along with Co-op Supreme horse feeds.
Equi-Jewel is a highly digestible, palatable source of fat made from rice bran. The outer brown layer of the kernel removed during the milling process that generates white rice. The bran is one of the most nutritious portions of the rice kernel, says Kim, and an excellent source of fat, thiamin, niacin, vitamin B-6, iron, phosphorus, magnesium, potassium, and fiber.
The addition of Equi-Jewel to the diet allows horses to consume more calories, which equals energy, without feeding excessive grain, says Kim.
"Research has shown that digestive problems may arise when horses are fed large volumes of grain," she explains. "Instead of increasing the grain, adding fat to the horse's diet is the best way to increase weight gain."
Equi-Jewel's essential fatty acids promote healthy skin and a shiny coat, and it has a balanced calcium-to-phosphorus ratio —unlike other rice bran products in which the ratio is inverted, according to Kentucky Performance Products, LLC (KPP). In nature, rice bran is low in calcium and high in phosphorus, explains KPP. These comprise most of the mineral matter in the horse's body. The challenge is to make sure horses receive adequate quantities of calcium and phosphorus, and ensure the proper ratio between them. Calcium has been added to Equi-Jewel, so it does not interfere with the calcium-to-phosphorus ratio in the diet.
Digestibility and exercise physiology trials show that Equi-Jewel can reduce lactic acid buildup and lower heart rate when compared to other high-fat supplements such as corn oil. And the fact that Equi-Jewel's rice bran is "stabilized" means it will have a longer shelf life than raw rice bran products in which the free fatty acids can more quickly turn rancid. The stabilization process subjects rice bran to heat and pressure, which prevents spoiling without destroying its nutritional value.
Though the most common use of Equi-Jewel is to put weight on horses, it can be used to realize a number of other benefits.
"There's a niche for Equi-Jewel with many types of horse owners," says KPP. "If you're looking for something to improve hair coat, Equi-Jewel will do that. It works great with older horses and thin horses because the caloric density will give the horses extra calories without overloading the horse with grain. And a lot of horse owners use it to keep up the energy levels on their lactating mares."
One of the biggest benefits is the fact that Equi-Jewel provides "cool energy" in the form of stamina, calming horses that become hyper and are hard to control on high-grain diets.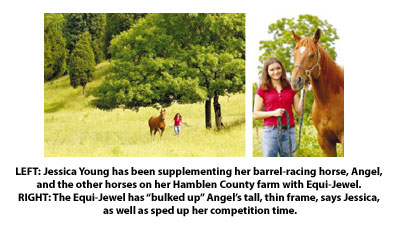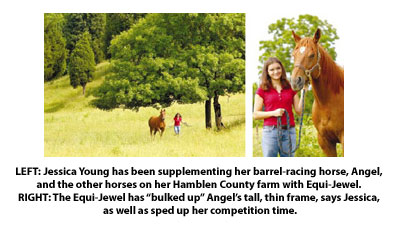 Providing that extra boost of energy is important to Jessica Young, who keeps her barrel horse, Angel, on a pretty stringent competition schedule at events across the Southeast. An employee of Cocke Farmers Co-op's Hamblen County branch, Jessica began showing horses when she was 8 years old and entered the highly competitive barrel-racing sport when she was 10.
"I was a cheerleader and played soccer," says Jessica. "But when I started this, I just quit everything. I'd come home from school and ride. I'd run every weekend. And it's been the same ever since."
In a fast sport where there's only 15 seconds to compete, extra energy can make a critical difference, says Jessica, who feeds one pound of Equi-Jewel and 10 pounds of Co-op Equine Advantage to her horse daily.
"Barrel-racing is very competitive, with only hundredths of a second separating the winners," she says. "I can tell the Equi-Jewel has made a difference in Angel. It wasn't a tremendous improvement in time, but she sped up."
Angel's appearance has improved, too, says Jessica. Because Angel is a large mare — the result of her genetic mix of Quarter Horse and Thoroughbred — Jessica says it was hard to keep weight on the horse's lanky frame before she began feeding Equi-Jewel.
"She gained weight when I didn't even think she needed to gain weight," says Jessica. "She slicked off and just looks a lot better than she did. And I thought she looked good at the time."
The six other horses at her farm near Whitesburg are also eating Equi-Jewel, which Jessica says is "just the best thing out of all the things I've tried."
"I sure do believe in it," she adds.
Michelle Conkle is also a believer in Equi-Jewel after Kim Smith recommended the product last fall. Michelle's main concern was weight gain for her aged horse, Sugar.
"Sugar has always been an easy keeper," says Michelle, who was 13 when she got Sugar and began showing her in 4-H competitions. She has owned the 30-year-old quarter horse for about 20 years. "She's as ornery as all get out, but she's never been sick or lame, and she's always been fat. That's why we got worried when we realized how much weight she'd lost."
When the loss began, Michelle isn't sure. Sugar also has Cushing's disease, an endocrinal disorder caused by a tumor of the pituitary gland. One of the most obvious symptoms of this disease, common in older horses, is the growth of thick, coarse, wavy hair, which masked Sugar's weight loss until it became severe.
"This past fall, in October, she started showing ribs," says Michelle. "We were worried because of her age. The area over her tailbone was hollow."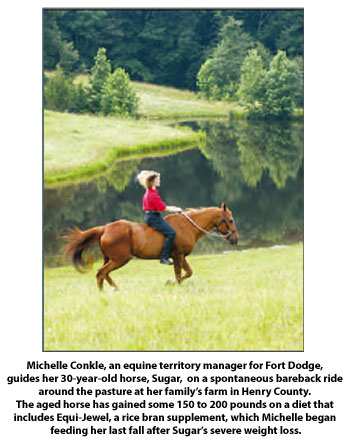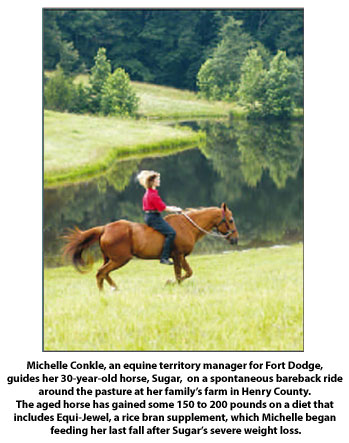 Kim suggested feeding one pound of Equi-Jewel and five pounds of alfalfa cubes soaked in water, in addition to the six pounds of Co-op Golden Years Supreme that Michelle was already feeding. Kim also recommended Probios, an animal health product used to maintain healthy microbial balance in the digestive system.
Over the winter, the diet helped Sugar put on an estimated 150 to 200 pounds, says Michelle.
"Honestly, you could see a difference in two weeks," says Michelle's mother, Wanda, who cares for Sugar and the four other geriatric equine that live on her 150-acre farm in Henry County, where Michelle was raised.
An equine territory manager for Fort Dodge, Michelle now lives in Williamson County with her husband, Mike, a farrier. They have several horses of their own, but Michelle wanted Sugar to stay in West Tennessee. That way, Michelle says, when Sugar dies, she can be buried on the hillside where her other cherished horses and pets have been laid to rest.
"She's in real good shape for her age, and I can still ride her," adds Michelle, proving that statement by swinging up on Sugar, bareback, for a spontaneous trot around the pasture. "And her coat looks real good now. I'm sure the Equi-Jewel and Golden Years had a lot to do with that."
"I just want to keep her as healthy as I can," adds Michelle. "I know she's old and more than likely we're going to lose her soon. But I'm not ready to let go yet."