Transitioning the off-the-track Thoroughbred to a new career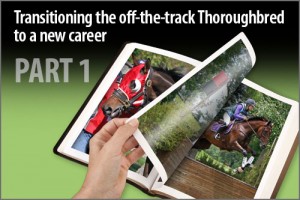 Transitioning an off-the-track Thoroughbred (OTTB) to a new career can result in a host of nutritional challenges. Trying to determine which supplements will best suit your OTTB may be confusing. We've developed a helpful infographic and 6-part blog series that outlines the many challenges.
First, you will need to determine what your new OTTB's job will be and what kind of condition he or she is currently in. An easy way to determine body condition is to utilize this simple scoring system.  Once you determine what your horse's job will be and establish a target condition score, you can begin to develop a plan to transition your horse to a new career and feeding program. Most off-the-track Thoroughbreds benefit from some downtime to adjust both mentally and physically to their new life. During this adjustment period it is most important to meet the horse's basic energy and nutrient needs while slowly switching to new feedstuffs. Try to avoid excessive weight loss by providing lots of good quality fiber and enough concentrate to maintain his or her current weight. This is an excellent time to do research on the supplements your off-the-track Thoroughbred will need when he starts this new career.
Click here to download a copy of our targeted solutions chart.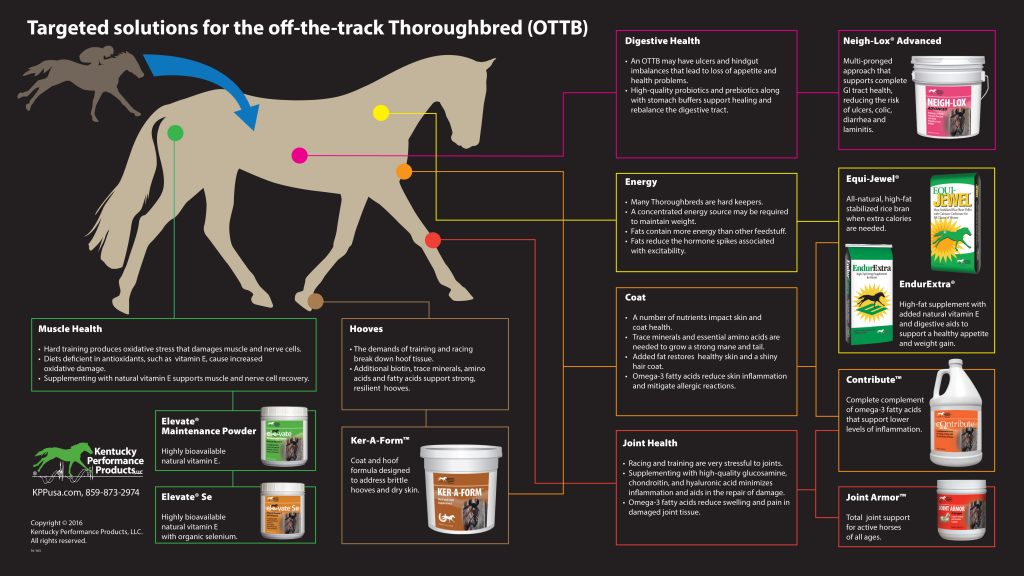 Read part 2: Ulcers and digestive tract imbalances in the OTTB
Read part 3: Meeting the energy requirements of the OTTB
Read part 4: Muscle problems in the OTTB
Read part 5: Hoof and coat problems facing the OTTB
Read part 6: Joint problems in the off-the-track Thoroughbred
---

---
Article written by KPP staff.
Copyright (C) 2016 Kentucky Performance Products, LLC.   All rights reserved.
---
When health issues arise, always seek the advice of a licensed veterinarian who can help you choose the correct course of action for your horse. Supplements are intended to maintain healthy systems and support recovery and healing. They are not intended to treat or cure illness or injury.
---
About Kentucky Performance Products, LLC: Since 1998, Kentucky Performance Products has simplified a horse owner's search for research-proven nutritional horse supplements that meet the challenges facing modern horses. KPP horse supplements target specific nutritional needs and are formulated to complement today's feeds, thus safeguarding against over-supplementation. Each product is scientifically formulated and made with high-quality ingredients at certified manufacturing facilities. Kentucky Performance Products is proud to offer a quality assurance promise backed by a money-back guarantee. Kentucky Performance Products brings you horse supplements you can count on because the horse that matters to you, matters to us.
Category : Health & Management | Other Topics of Interest | Tips and Topics