Summer update from sponsored rider Caden Talip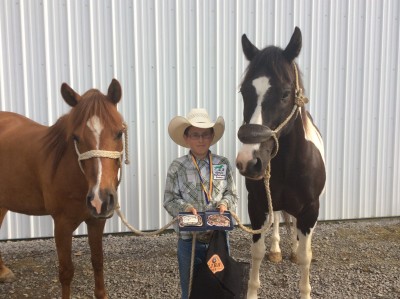 Hi guys it's hot out there! It's been a while and a lot has changed! School started back up (I'm not very happy about that). I'm in the 5th grade now. Most importantly is that I got a new horse. He's a black and white paint named Dollar and he's awesome! He has really helped me with my roping and since I got him I've learned to leave the box and track the cow faster. Dad and mom say Dollar has given me a lot of confidence and is a great step up horse from Yogi. I can see it too. I love riding Yogi but he only wants to go so fast and not put in much more effort than he thinks he should. Speaking of Yogi, a little while after I got Dollar we sold Yogi!! He went to a younger junior rodeo kid who is now rodeoing on him and rides him all the time. I'm really glad they bought him because I get to see him at the junior rodeos in KY and IN and he also comes to my house for practice sometimes.

So at the end of the Youth Rodeo Challenge Series season in OH I ended up winning buckles in 3 events. Then when the KJRA finals came around I won the buckle for Dummy Roping in my age division. That was my last year in the dummy roping. The new KJRA season is starting next weekend in Cynthiana, KY and I'm entered in Goat Tying, Breakaway Roping, Lead Steer Heeling and Steer Stopping, which is like Heading. Dollar and I have been practicing a lot for these events and we have been competing in them all summer in IN at the SIJRA rodeos. We just got back from one last night. Yesterday Dollar and I won the Lead Steer Heeling with my dad heading for me, I was pretty excited! The day before I caught our Breakaway calf and we were 6th. It was a fun rodeo; we had Cowboy Church and a volleyball game in the arena on Saturday night. I had sand from head to toe but I wasn't the only one!
---
Article sponsored by Joint Armor; complete joint supplement at a very affordable price.
When health issues arise, always seek the advice of a licensed veterinarian who can help you choose the correct course of action for your horse. Supplements are intended to maintain healthy systems and support recovery and healing. They are not intended to treat or cure illness or injury.
---
About Kentucky Performance Products, LLC:
Since 1998, Kentucky Performance Products has simplified a horse owner's search for research-proven nutritional horse supplements that meet the challenges facing modern horses. KPP horse supplements target specific nutritional needs and are formulated to complement today's feeds, thus safeguarding against over-supplementation. Each product is scientifically formulated and made with high-quality ingredients at certified manufacturing facilities. Kentucky Performance Products is proud to offer a quality assurance promise backed by a money-back guarantee. Kentucky Performance Products brings you horse supplements you can count on because the horse that matters to you, matters to us.
Category : Caden's Awesomeness Blog | Tips and Topics