Good Nutrition in Broodmares Supports Healthy Foals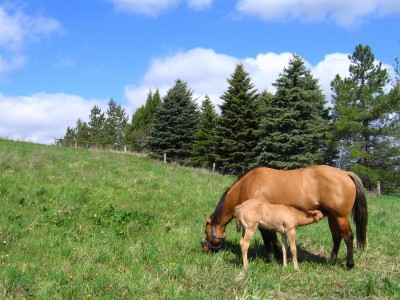 When a mare passes antibodies (immunoglobulins) on to her foal, it is known as passive transfer. These antibodies help to protect the foal from diseases until its own immune system gets up and running. Failure of passive transfer results in foals with weak immune systems that are at risk for serious health problems.
Research has shown that pregnant mares supplemented daily with 2,500 IU of water-soluble, natural vitamin E (Elevate W.S.) from the last month of pregnancy into the first few days of lactation had higher levels of vitamin E and the antibodies IgG and IgM in their colostrums and milk. Subsequently, higher blood levels of IgM and vitamin E were reported in the foals of the supplemented mares (Bondo and Jensen 2010).
IgG, also known as "Immunoglobulin G," is one of five main classes of antibodies and is considered the most versatile immunoglobulin because it can perform all the functions of antibodies. IgM, aka "Immunoglobulin M," is the first immunoglobulin produced by fetuses.
Vitamin E is a powerful antioxidant that supports a strong immune response and reduces oxidative stress.  High levels of the IgG, IgM and vitamin E in the mare's blood and colostrums tend to predict successful passive transfer. High levels in blood samples from foals indicate that passive transfer has occurred.
Article written by KPP staff.
Copyright (C) 2013 Kentucky Performance Products, LLC.   All rights reserved.
---
Article sponsored by Elevate W.S.; the most bioavailable source of natural vitamin E on the market today.
When health issues arise, always seek the advice of a licensed veterinarian who can help you choose the correct course of action for your horse. Supplements are intended to maintain healthy systems and support recovery and healing. They are not intended to treat or cure illness or injury.
---
About Kentucky Performance Products, LLC:
Since 1998, Kentucky Performance Products has simplified a horse owner's search for research-proven nutritional horse supplements that meet the challenges facing modern horses. KPP horse supplements target specific nutritional needs and are formulated to complement today's feeds, thus safeguarding against over-supplementation. Each product is scientifically formulated and made with high-quality ingredients at certified manufacturing facilities. Kentucky Performance Products is proud to offer a quality assurance promise backed by a money-back guarantee. Kentucky Performance Products brings you horse supplements you can count on because the horse that matters to you, matters to us.
Category : Essential Vitamins | Tips and Topics