What is arthritis and why are older horses more susceptible?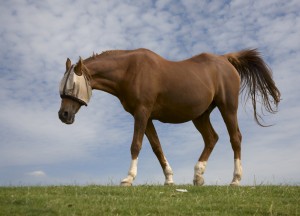 Arthritis is a degeneration of the articular surfaces of the joint caused by inflammation. Over time, normal wear and tear leads to an erosion of joint structures and a reduction in the synovial fluid that cushions the joint. Loss of elasticity in older tendons and ligaments causes greater joint trauma and a thinning of the joint cartilage.
Such changes reduce your horse's natural shock absorbing abilities and result in increased joint inflammation, setting the stage for arthritis to take hold.
Diet plays a significant role in joint health. Supplementing with a complete joint supplement, such as Joint Armor from Kentucky Performance Products, provides your horse's joints with the nutrients she needs to support healthy synovial fluid and resilient cartilage. Joint Armor helps maintain fluid motion and reduces inflammation.
Additionally, omega-3 fatty acids added to the diet also impact inflammation levels. Omega-3s are anti-inflammatory in nature. Research has shown that when horses are fed omega-3 fatty acids their length of stride increased, which indicates improved soundness. Contribute omega-3 supplement, made by Kentucky Performance Products, contains a full complement of critical omega-3 fatty acids.
Don't let arthritis keep your senior horse down. Supplement his diet with Joint Armor and Contribute to maintain healthy joints and support reduced inflammation.
Article written by KPP staff.
Copyright (C) 2013 Kentucky Performance Products, LLC.   All rights reserved.
---
Article sponsored by Joint Armor; complete joint supplement at a very affordable price.
When health issues arise, always seek the advice of a licensed veterinarian who can help you choose the correct course of action for your horse. Supplements are intended to maintain healthy systems and support recovery and healing. They are not intended to treat or cure illness or injury.
---
About Kentucky Performance Products, LLC:
Since 1998, Kentucky Performance Products has simplified a horse owner's search for research-proven nutritional horse supplements that meet the challenges facing modern horses. KPP horse supplements target specific nutritional needs and are formulated to complement today's feeds, thus safeguarding against over-supplementation. Each product is scientifically formulated and made with high-quality ingredients at certified manufacturing facilities. Kentucky Performance Products is proud to offer a quality assurance promise backed by a money-back guarantee. Kentucky Performance Products brings you horse supplements you can count on because the horse that matters to you, matters to us.
Category : Health & Management | Tips and Topics