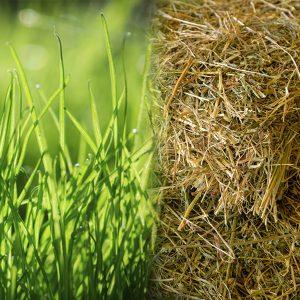 How to safely switch your horse from pasture grass to hay
Switching a horse from fresh pasture to dried hay can lead to digestive upset and colic. Making the switch slowly will allow the digestive tract to adjust to the new forage and reduce the risk of colic.
Researchers have shown that it takes up to two weeks for the equine gut to adjust to a new forage type. During that period the risk of colic is elevated. Because the moisture content in grass is much higher than that of dried hays, the change to a drier diet can contribute to the development of impaction colic. The different levels of nutrients found in varying species of grasses can cause disruption to the microbiome, which can cause gas colic.
With these important facts in mind, it is recommended that you slowly transition your horse off of pasture grass and onto dried forages over a 14-day period. Begin by reducing the time your horse spends out on pasture and providing supplemental hay in its place. A good rule to follow over this transition period is for a horse to consume the equivalent of about 1 lb of hay per hour of grazing on good pasture. Horses typically graze about 17 out of 24 hours when turned out full time. Horses turned out part-time may eat the entire time they are outside!
If you are transitioning horses onto hay in the fall as pasture grasses slow their growth, put out additional hay one flake at a time. Slowly increase the amount you provide over at least two weeks. Check any hay that is left uneaten during this period and remove it if it becomes wet or moldy. Start your transition early enough in the fall so that your pastures don't get overgrazed before adequate hay can be provided.
If your pasture is healthy and large enough, you may not have to supplement additional hay at all. The summer grasses will slowly convert to standing hay as winter temperatures set in. Monitor winter pastures carefully for overgrazing and offer supplemental hay as needed. Horses on pasture may need additional hay if snow cover gets too deep for horses to graze properly.
As horses transition from grass to hay their water requirements will increase. Always provide free-choice clean water and a salt block or loose salt. Hang additional water buckets in stalls and monitor outside tanks to ensure plenty of water is available.
Some horses benefit from a digestive supplement during transition periods. These supplements support gut functionality and maintain a well-balanced microbiome during times of stress. If you have a horse that develops diarrhea or colic during seasonal transitions, begin supplementation at least 30 days prior to the transition period.