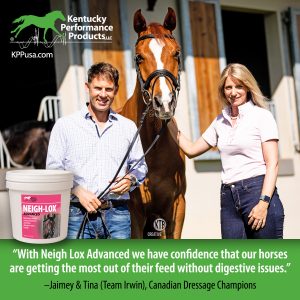 Jaimey and Tina Irwin
Stoney Lake Equestrian Centre in Stouffville, Ontario, is home base to one of Canada's premier dressage couples. 
Jaimey and Tina Irwin are sponsored by Kentucky Performance Products, LLC and Brooks Performance Horse Feeds. Jaimey and Tina use Neigh-Lox, Endura-Max, and Equi-Jewel.
"Quality is a key ingredient found in every bucket of equine supplement offered by Kentucky Performance Products, LLC.  The horses at #TeamIrwin thrive with quality supplements and products provided by Kentucky Performance Products"
"Neigh-Lox® Advanced provides a scientifically advanced blend of ingredients that work to maintain a healthy stomach, small intestine, and hindgut.
Our horses travel internationally for competitions (sometimes as far as Gothenburg, Sweden, for the World Cup; Guadalajara, Mexico, and Lima, Peru, for the Pan American Games; and frequently to and from Florida). With the stress of traveling we want to make sure that their stomachs, intestines, and hindguts are healthy and feeling good before, during, and after travel.
We trust Neigh-Lox Advanced to keep them in top shape so that we can arrive at our competition ready to compete feeling good. This supplement is also really great for the horses that are hard keepers and fussy eaters!"
Jaimey
Jaimey was born in Peterborough, Ontario, Canada and grew up in Lakefield, Ontario on Stoney Lake, at his family's resort the Irwin Inn. He began riding at the young age of 6 and his competition career began by competing at local fairs with his first horse. Jaimey is a successful International Grand Prix Rider and EC Certified High Performance Coach. He has represented Canada on numerous occasions.
Jaimey competed very successfully at the Young Rider level on a mare named Picarda. In 1999 at the NAJYRC Jaimey and Picarda placed fourth individually just missing out on the Bronze Medal. Shortly after his Young Rider years, Jaimey went on to train in Germany with Holger Muenstermann, with whom he continued to train for 15 years. He also trained with Udo Lange. In 2002 Jaimey took a job as the head trainer of a stable in Luzern, Switzerland. Afterwards he continued on with his training career in Europe by returning back to Germany and becoming Holger Muenstermann's head rider.
In 2011 Jaimey qualified with Winston for the Pan American Games as the top ranked combination in Canada. His wife, Tina also qualified with the same horse after she gave birth to their first child, Gavin. Therefore the couple decided that Tina would have the ride for the Games. Jaimey coached Tina and fellow teammate Roberta Morris to help win the Team Silver medal.
Jaimey represented North America with Lindor's Finest at the Reem Acra World Cup Finals in Gothenburg, Sweden in 2013.
Jaimey's most recent star in the stable is Donegal V who was purchased by a syndicate for Jaimey to ride as a three year old from Holland. In 2017, he won International classes in Wellington, Florida and was a member of Canada's Gold Medal winning Nations Cup Team. The pair also won the Individual Silver Medal right behind his wife, Tina and Laurencio. This was the first time in history that Canada had won the Nations Cup in Dressage and also the first time that a husband and wife duo were on a team together
Donegal has competed successfully at the Grand Prix level achieving scores over 70% most recently being short listed for the Canadian Team. They are aiming for the Tokyo Olympics.
Jaimey coached Tina and Laurencio to win the Pan American Team Gold and Individual Silver Medals at the Pan American Games in Lima, Peru in 2019.
He has coached many Young Riders to medals at the North American Young Rider Championships and he and Tina provide an excellent program for matching the Young Riders with the right horses and top coaching to achieving their dreams.
You can find Jaimey traveling most weekends teaching clinics throughout North America when he is not competing or spending time with his wife and two children, Gavin and Marlies.

Tina
Tina is a successful International Grand Prix Rider and EC Certified High Performance Coach. She has represented Canada on numerous occasions. Born in Hagen, Germany Tina changed her citizenship to Canadian when she turned 16. Tina was taught by her mother, Ute Busse a successful Grand Prix rider and trainer in her early years through the Young Rider level. Tina trained in Germany with Holger Muenstermann and Klaus Martin Rath. She is coached by her husband and business partner, Jaimey Irwin and they own and operate their Dressage training business, Stoney Lake Equestrian also known as Team Irwin.
Tina won the Team Silver Medal at the Pan American Games in 2011 in Guadalajara, Mexico with Winston. Tina and Laurencio won Team Gold and Individual Silver Medals at the Pan American Games in Lima, Peru in 2019. They have won two Individual Gold Medals at the Nations Cup in Wellington, Florida in 2017 and 2019, as well as a Team Gold and Team Silver. The duo held the world record in the Intermediare 1 Freestyle in 2017. Laurencio was named Horse of the year twice, once in 2016 and again in 2019. He was also awarded Horse of the year for all three disciplines by Equestrian Canada in 2019.
Tina was named Athlete of the year and Equestrian of the year in 2019.
Tina is currently campaigning a talented Grand Prix mare, Fancy That for the Tokyo, Olympics.
Team Irwin specializes in training horse and rider and providing High Performance Coaching, and top quality sales horses. They also have an excellent Junior/Young Rider program. Stoney Lake Equestrian is located in Stouffville, Ontario at Strathfield Farm, conveniently located as the closest High Performance Dressage stable to Toronto.
Check out their website www.teamirwindressage.com To keep an eye on what's current, like their Facebook and Instagram page Team Irwin Dressage.
The Chronicle of the Horse checked in with Jaimey to see how his World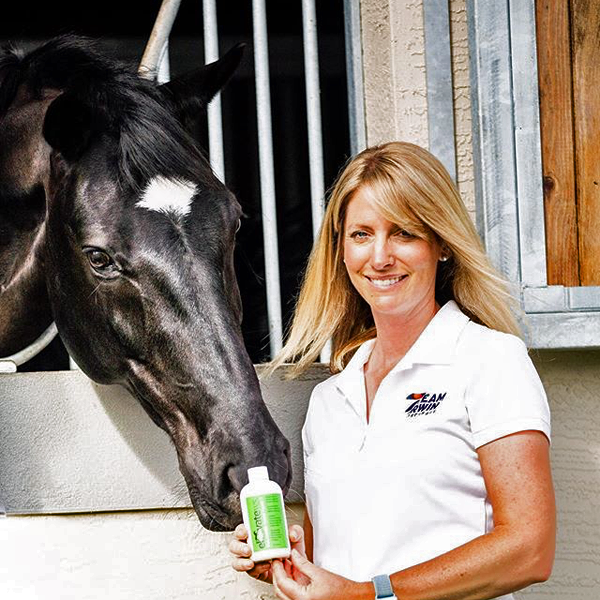 Cup preparations were coming along. We sure are proud of this pair!