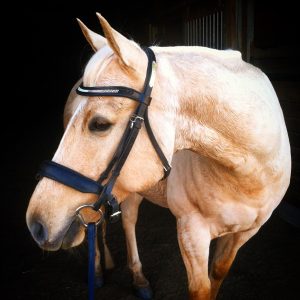 Within weeks we had huge results.
My dressage gelding, Jaxson (Overen Boy Jaxson), had a slip and fall in the pasture, causing some severe chiropractic misalignments. We noticed his muscles we in constant spasms, even with bodywork and bute. Bloodwork revealed he was very low in vitamin E. I tried several supplements without success. After some research I discovered that I was giving him synthetic vitamin E, which has proven to be ineffective. It was then I discovered Myo-Guard by KPP. Within a week we had huge results, his muscles relaxed and he began holding his adjustments. Added bonus, the magnesium provided him a with new sense of calm. Everyone in the barn noticed and commented. Now all my barn mates are using KPP products with success.
I [continue to] give Myo-Guard once a day to both my horses, in their morning feed. Their coats have exploded in dapples and they are very relaxed and happy, with quicker muscle recovery.
The staff went above and beyond, setting up time to speak directly with their nutritionist and sourcing local feed shops in which to buy their products. I am so impressed with the quality of the products and the research involved with their development. Loyal customer for life.
-Candace Rozansky, September 24th Arabians