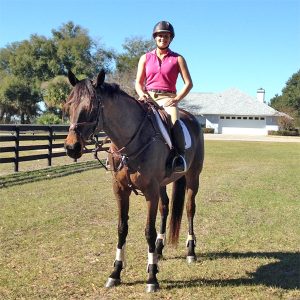 Florida 2015 Update
Hey everyone, long time since my last blog but it's been pretty quiet on my end. The crew, me and four horses, have arrived in Florida. This year I of course have Hoosier and Zeke, but I also got to bring Oliver back. The new one added to the crew is Bang. Abby, a student of mine, was kind enough to let me bring her horse down for some additional training.
I am back in Missy's boot camp. I'm excited to see what the new year has in store for me and my four-legged favorites. I feel like 2014 was really good to me. I got a few more intermediates under my belt and completed two CIC**.
I ran Hoosier in the Intermediate/Preliminary at Rocking Horse last weekend. He was a very good boy, despite the fact I somehow got my reins caught between me and the saddle in stadium. He kept jumping as I finally managed to get them unstuck.
I would only be blessed if 2015 has similar things in store. Looking forward to a safe, fun-filled, learning, successful year! Stay tuned for what's to come.
Until next time, safe rides!
Megan