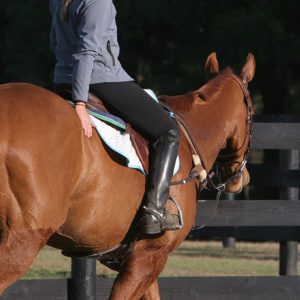 The Softer Side of Hoosier
Hey everyone. I am finally home from sunny Florida and it feels COLD in Kentucky. I would have thought this state would have warmed up by now; the low tonight is going to be 42!
The last several weeks in Florida were crazy but fun and very educational. Karen was great to work for and the amount of knowledge that lady has is unbelievable. For those who may not know, I stayed an extra month in Florida to work and train with Karen O'Connor. She is an amazing instructor and really pushes you to be your best.
In stadium with Hoosier she really worked on him being soft and supple before the fences. He has a tendency to get tight in his back a stride or two before takeoff, so she pushed me to be softer, while keeping him supple, and keeping my power all at the same time.
One of the exercises she had us do was ride a square without a jump, pushing him under me in my turns, while keeping him straight, and when he softens for me to release and reward him. Once we got that down we added one fence at a time. We would come around and square, turn before the fence and land straight, squaring the turn after. Keep in mind the fences aren't very big at this point. Karen believes if you can't jump a 2'6" fence completely correctly, why jump higher? If you can jump a small fence completely correctly with the right balance, softness, and power then you can jump any size fence.
After mastering one fence we would add another, then once that was mastered another fence was added. By the end of it I was jumping more sizable fences and doing more course work. But at any time if Hoosier got resistant, I would have to go back to the basics of a circle to soften him, get my power back and resume.
I have to say it was a ton of fun jumping this way, because when you had it all together you would hardly ever have a bad jump. And of course this all helped me and carried over to the cross-country. In my next blog I'll talk about my dressage work, which carried over to my jumping.
I have to say I feel so blessed to have worked with these top riders in Florida. It is almost surreal to me.
Until next time, safe rides!
Megan