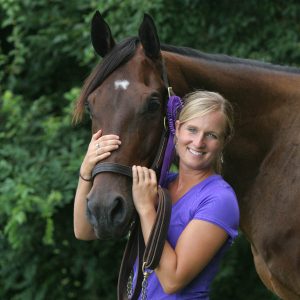 A Tribute to Christine
Hey everyone. I know it's been a while since I posted my last blog but last month I lost someone very dear to me and I've been trying to figure out the best way to write a tribute to her since.
In every sport we all have idols, whether they are the top professionals or the local person down the road who inspired us from a young age. Some of these people seem like super heroes to us and we think, "When I grow up I want to be just like them." Now, when you think of the heroes in our sport the first names that might come to mind are Karen O'Connor, Bruce Davison, or Philip Dutton. All of them are amazing riders, but they aren't who I looked up to while growing my riding career.
Growing up in a tight-knit horse community has been nothing but a blessing and I have made wonderful friends. I remember watching those friends while I was at the lower levels and thinking, "One day I want to ride like her." In July 2013, one of my idols passed in a tragic accident. It has left me speechless and lost.
Christine Brown was one of the most amazing people I have ever known. When I first heard the news I did not believe it. Maybe it's because I refused to, but once it sunk in I felt a sense of being lost. You see, Christine was not only a friend of mine, but she was also a mentor, and someone I really looked up too.
I can truly say I would not be where I am today without her. One of the best memories I have of Christine is her taking me to lunch and saying, "I've talked to your sisters and I think you should know, I have your life planned out for you." And little did I know then how right her plans were. She was the first to tell me I needed to get out and ride different places, so to Florida I went. She was the first to ever say, "You need to try a lesson with Missy Ransehousen." It may have taken a year to take that lesson with Missy after Christine told me that, but I eventually did, and it turned out to be one of the best decisions I've ever made.
She always wanted what was best for me, but the amazing thing about her is she truly wanted the best for everyone. Any time someone needed her help she ALWAYS would jump up and help, with a smile on her face.
Christine was very loving and you could tell that just by the way she loved animals, whether she became the mother to an orphaned fawn, or driving to Louisville to help an injured bird she had found out in her field. There was even winning baby chicks at a silent auction so she and her dog Sophie could raise them. Yes, her dog Sophie adopted baby chicks as her own and would lie there and lick them until they were a slobbered mess.
One of the things I respected most about Christine is how she always respected other people, but she taught me to never let anyone talk down to me and always stand strong in what you believe is right. I know no one is perfect but someone who can be a mentor, friend, a giver, and never a taker, and be a loving person with poise and respect sounds close to perfect to me.
Christine, I will always cherish and remember all the wonderful times we spent together. I will take the sound advice you gave me and use it not just in my riding but in my life. I will hold on to all the encouragement you were always so willing to give. And I will attempt to live my life with you as the model of the kind of woman I want to be.
Megan
---
Megan dedicated her rides at Champagne Run to Christine Brown and as a tribute wore Christine's purple cross-country colors. Everyone who knew Christine knew of her love for purple. Megan and Zeke finished seventh that weekend, winning the purple ribbon.