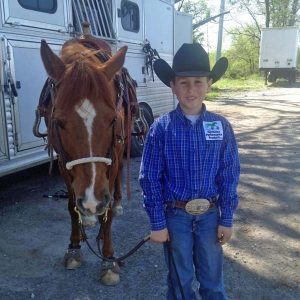 Caden's Update
Greetings!!
There is a lot to catch up on in this blog! First, the Youth Rodeo Challenge Series season in Ohio has ended. I am very excited to report I won 3 Year-End champion belt buckles and 2 halters for being the winner of 2 events at the Finals! The buckles are for Dummy Roping (7-9 years), Drag Dummy Roping (7-9) & Drag Dummy Roping (10-12). My favorite buckle is for winning the Drag Dummy Roping in the 10-12 year old division, because I competed against kids older than me and because I had practiced a lot and improved enough to win against the older kids.
Last weekend I had a Kentucky Junior Rodeo Association rodeo in Murray, KY. I actually worked on some homework in the truck on the way there because I was missing school on Friday. But then, I lost my homework somewhere in the truck. My teacher was a little bit mad about that, so we are going to have to find it or I'll have to redo it, bother it! My Grandma sewed Kentucky Performance Products patches onto my rodeo shirts because they are big sponsors of KJRA!
On Saturday I was 2nd in Dummy Roping (grades 3-5) and 3rd in Goat Tying (grades 3-5). I asked my dad what I did wrong in the Dummy Roping and he helped me figure it out. I was happy with my Goat Tying run. Yogi listened to me and kept loping all the way to the goat and my get-off, flank and tie went pretty good. My time was 24.091 and my hat even stayed on my head! I'm glad I spent a lot of time practicing with my friends.
On Sunday I won the Dummy Roping. And I'm thankful that my dad kept working with me on roping the dummy. Sometimes I can be a little difficult 🙂 My Goat Tying run didn't work out too well. The goat was fresh and kicked and strained and ran around in circles and I didn't get him tied. That's what I call a bad draw!
My friends Josh, Addey, Tyler, Lucas and Sam all had a good weekend too and we all had fun rodeoing and running around together. I drank Gatorade and ate funnel cakes too. Mom says I spend too much money at the concession stand.
Oh yeah, I almost forgot! Speaking of goats I finally named my fainting goat…………GARY.
See ya
From Gary, Yogi & Caden.