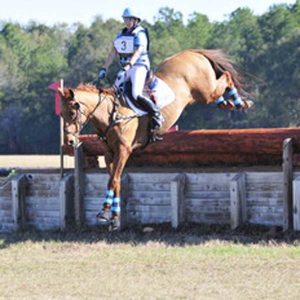 Team Have At It – Ocala Horse Trials Winter II Update
Hey everyone! What a great weekend I had. It was the first time I have done all three phases in one day, and was quite worried about how Hoosier was going to handle it at Intermediate. Needless to say he was a rock star!
Our dressage wasn't by any means close to our best. He was quite tense and on his toes, which made him a bit fussy. We had been changing bits all week for jumping so it would be easier for me to keep him up, and I feel like that may have had something to do with his fussiness. Either way, going into a one-day competition, I'd much rather feel him on his toes than lazy!
Stadium was shortly after, and the course was maxed out. I was the first to go all day! The course rode great and Hoosier was jumping awesome! I had two rails but one was ALL my fault. I let him, again, get too strung out at the triple bar. Yes, you would have thought I learned at the last show. The other rail was in the middle of the triple line and I just needed to get my shoulders up faster in between fences so I could help him more. Other than those two mistakes, it was a beautiful round.
Twenty minutes later was cross-country. Man, that was a BIG, TOUGH course. The jumps were solid and there were definitely questions that neither one of us had seen before. But Hoosier rocked it! He was listening so well, and was just on top of it. I was glowing when I got off the course. We went 30 seconds over time, but I was not about to push him since he had to do all of that in one day. I'm still glowing over him!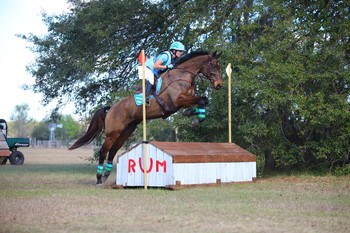 On Thursday I was able to get Zeke into show…surprise! He took the place of fellow working student Steph's novice horse, which sadly wasn't able to compete. Dressage was pretty good; we only had one canter explosion and pulled off a 36. We had an amazing cross-country ride, even though he hadn't seen an XC fence since River Glen in November. His stadium round was much better than the one in November. I had two rails down and I'm still kicking myself over them, but he was so much better! His awesome rounds earned him a trip to Rocking Horse this weekend.
Until next time, safe rides!
Megan