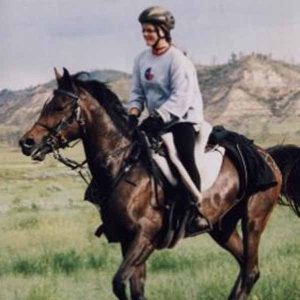 "Correct electrolyte formulation is paramount… and Endura-Max has got it right!"
Autumn Whitt knows well that electrolyte supplementation is vital to a winning endurance ride. That's why she turns to Endura-Max  and Endura-Max Plus offered by Kentucky Performance Products when preparing for and competing in a ride. Neither electrolyte product has let her down. Since switching to Endura-Max  and Endura-Max Plus, Autumn reports she has noticed no visible muscle fatigue whatsoever among her horses and has had great hydration scores.
In 2005, she placed fourth in the featherweight division and eleventh overall at the American Endurance Ride Conference (AERC) Championships. In the past few years, she has earned two Arabian Horse Association (AHA) Regional Championships.
"Endura-Max and Endura-Max Plus are the only products on the market that I have found to be properly formulated to meet the demanding needs of the endurance horse. Correct electrolyte formulation is paramount and essential in the endurance horse and Endura-Max has got it right! I am now using the buffered Endura-Max Plus during training and have had even better results."
– Autumn Whitt