Farrier and Top Competitive Trail Horse Clinician Depends on Equi-jewel to Keep His Horses in Great Condition.
"Equi-Jewel delivers the best of all worlds — sustained, controllable energy; weight gain; noticeable improvement in coat condition; and fast recovery from intense exercise. What more could we ask of a supplement?"
– Joe & Penny Most, Perfect Partners Equine
Meet Tuff
Tuff's Trail Tips
Teaching your horse to lower his head on the trail.
How to use your snaffle bit to control speed on the trail
Saddle fit.  Does your saddle fit your horse?
Tuff in Action
Tuff's Bio
Tuff 2003 AQHA Gelding registered name: Kings Tough Skip
Tuff was raised and trained at Most Quarter Horses. We still own both his sire Skipa Quincy Image & dam Kings Tough Journey. We are very proud of our breeding program and this is an opportunity for us to show the versatility of the American Quarter Horse & also the horses produced by Most Quarter Horses!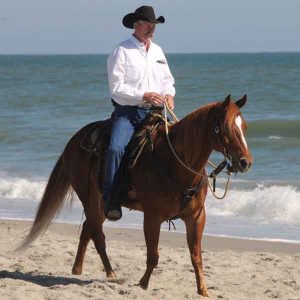 The finals in Blanco, Texas held at the Franklin Family Ranch was a host of horsemen and women in a fantastic setting. Talented horsemen such as Monty Roberts, Van Hargis, Ray Ariss, Aaron Ralston, Guy McLean , Nancy Cahill, Lyn Palm, and many more were on hand to coach participants in horsemanship and being in front of the camera.
It all started in 1992 when Penny acquired her show prospect a palomino stud colt named Skipa Quincy Image. So over a period of 3 or 4 yrs this stallion acquired approx. 200 PHBA points and had placed 9th & 11th at the PHBA World Show in OK and was a now a great breeding prospect for making babies.
In 2001 Penny met Joe. Joe had 3 AQHA mares one mare named Kings Tough Journey , she was an especially talented and athletic mare. So Joe having some mares at the time and with Penny and her 2 AQHA mares and a stallion things seemed to be looking like a breeding program. Joe's mares were all cow bred type mares and were very successful & had won many titles with them in cattle events. Penny had the Skipper W Stallion and some pleasure bred mares.
As the relationship between Penny and Joe progressed forward the idea arose in 2002 to possibly breed one of Joes athletic and extremely cowy King bred mares "Kings Tough Journey" to Penny's laid back and easy going Skipper W Stallion by the name of Skipa Quincy Image. Thus the conception of Kings Tough Skip aka Tuff!
Tuff was born in May of 2003 and was officially dubbed their (Joe & Penny's) "first born child" and so for Joe it was his "first born male child". Joe & Penny decided to get married and so they were married in July 2003 in order to keep things proper since they now shared a son. LOL
Joe worked with Tuff on the ground as young horse and then began riding him at the age of 2yrs old. Tuff was a super cute little stallion but the decision was made that he would make an outstanding gelding so he was gelded at the age of 2&1/2 yrs.
Joe brought Tuff along slowly and patiently. Joe spent many hours and days with Tuff in the beginning to give him a good foundation in preparation for riding.
Tuff was very easy to work with and has always had a great attitude.
In 2006 as a 3yr old Tuff performed a demonstration at an equine event in front of a crowd of 4,000 folks in Williamston, NC and was a super star. The crowd loved him and you would have never known it was his first time in front of a crowd or in an indoor arena.
As a 4 yr old Tuff began assisting Joe at horsemanship clinics & workshops and really developing into Joes little pal. Joe could use Tuff to demonstrate tasks to his students and he would do the task and then wait patiently unattended while Joe would work with his student. Often times Tuff would help Joe out by letting the students practice the technique with Tuff and they see how the technique worked and could be successful. Thus Tuff the assistant was born!
In 2009 Joe & Penny's nephew Zachary had showed interest in participating in his schools local FFA (Future Farmers of America) horse show. Zachary is the kindest hearted young man in the world and was born very premature along with his twin brother and is challenged in some ways from being born so early. He loves horses and really wanted to compete with his fellow classmates at this upcoming event. We decided that by this time Tuff had already proven his self in so many ways and had been ridden in the mountains of MO, to the beaches of SC and everywhere in between and that he was capable of letting Zach attend and participate in his FFA horse show.
Thus Tuff the halter horse was born!
Zachary showed Tuff in the class that day and they both looked like pros! Tuff won the class and the smile and sense of accomplishment on Zachary's face when he exited that arena with a blue ribbon made that decision back in 2002 to breed that King Bred mare and that Skipper W stallion one of the best decisions in the world!
Tuff was now a Blue Ribbon Winner and so was Zachary!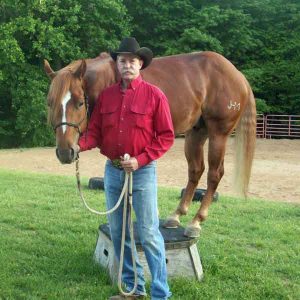 Tuff was by now around 6 yrs of age and Joe really wanted to see how he would fair at a ranch horse show. Joe started taking Tuff to some stock horse /ranch horse shows and turning back cattle for the classes. Tuff had not really ever been around many cows so it would be interesting to see how this little laid back gelding was going to handle a cow.
Once Tuff figured out the object of the game and that he could make the cows move that was all it took and thus Tuff the Cow Horse was born!
Since that time Tuff has done very well with Ranch/Stock Horse Shows in Ranch Sorting, Ranch Horse WP and he even participated in a reining class.
Tuff has been ridden in parades, on trails, at shows. He is regular at the annual American Heart Association Beach Ride Fundraiser in Myrtle Beach SC and makes friends everywhere he goes.
One evening in Feb 2011 Penny was opening emails and received an email from The Paint Horse Association about the Americas Favorite Trail Horse Competition being put on by ACTHA. They were looking for that special horse! Penny knew at that moment that Tuff was the horse they were looking for. They were looking for that horse to encourage folks to dust off that saddle and start riding again and have that special relationship with a horse. Penny knew that with Tuff & Joes talent and ability along with the special relationship between the two, that Tuff had a really good chance of winning the competition.
At that time Tuff had already acquired the official titles of assistant, halter horse, cow horse & trail horse, not to mention buddy and pal he could definitely be Americas Favorite Trail Horse!
Joe & Tuff enjoy trail riding throughout the year and have met and made many great friends through trail riding.
A good trail horse is hard to find and they must exhibit a calmness and ability to travel safely through any type of circumstance with confidence.
Tuff has all of these and more plus he is just so darn cute and that is why he would be the best choice for AMERICAS FAVORITE TRAIL HORSE!