Love Story – The Accident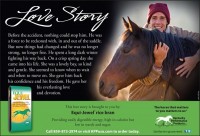 The horse that matters to you matters to the people at Kentucky Performance Products, because we feel the same way about our own horses.
This collection of love stories is not based on any one person's experiences; they are our stories and your stories. They are the stories we share because we are fortunate enough to have our lives and hearts filled with horses.
Before the accident, nothing could stop him. He was a force to be reckoned with, in and out of the saddle. But now things had changed and he was no longer strong, no longer free. He spent a long dark winter fighting his way back. On a crisp spring day she came into his life. She was a lovely bay, so kind and gentle. She seemed to know when to wait and when to move on. She gave him back his confidence and his freedom. He gave her his everlasting love and devotion.
---
This love story is brought to you by:
Providing easily digestible energy, high in calories but low in starch and sugar.
Category : Love Stories | Tips and Topics