Love Story – A Dream Come True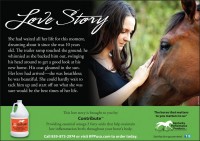 The horse that matters to you matters to the people at Kentucky Performance Products, because we feel the same way about our own horses.
This collection of love stories is not based on any one person's experiences; they are our stories and your stories. They are the stories we share because we are fortunate enough to have our lives and hearts filled with horses.
She had waited all her life for this moment, dreaming about it since she was 10 years old. The trailer ramp touched the ground; he whinnied as she backed him out, swinging his head around to get a good look at his new home. His coat gleamed in the sun. Her love had arrived—she was breathless; he was beautiful. She could hardly wait to tack him up and start off on what she was sure would be the best times of her life.
---
This love story is brought to you by:
Providing essential omega-3 fatty acids that help maintain low inflammation levels throughout your horse's body.
Category : Love Stories | Tips and Topics