"What's in a Name?" Contest Winners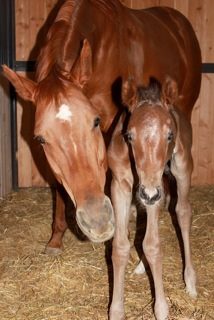 Rubix
Hello my name is Rubix.
My humans had to come up with a "R" name for me as being a Hanoverian my name would have to start with a "R' like my sire. Although a colt and filly name were picked out, that was soon to change. My mom never had a foal before and on the night of April 10, 2012 I decided it was time to come out.
Mom was having a hard time, she kept thrashing around and was very uncomfortable. My humans were worried and called the vet. I guess I decided to be a little puzzle for my humans; foot, nose, foot – Oh no. Well after a deep breath my human mom decided to investigate and determined I had a elbow lock. One little slip of her hand and she eased my elbow out. Boy what a relief for all involved. My human dad said "Lets name this little puzzle "Rubix", like the cube". And that is how I got my name!
Submitted by Rita Stegeman
Fly Lite
Meet Fly Lite – some of you are very familiar with Fly's plight to and from New Holland Kill Pens. This young lady has seen it all- in a nutshell: bred and sold as a TB sport horse, sent to New Holland around the age of 4, rescued and raced at 5, retired to a new career and almost sent BACK to New Holland, rescued by Jo Deibel of Angel Acres and sent to Maker's Mark Secretariat Center in 2007, adopted and returned twice in 2008, fought a tough winter in 2008 in foster care (quarantined b/c of a strangles out break on the foster farm, neglect situation, etc), brought back to MMSC in 2009 where I adopted her…we live happily ever after!
Fly was named by her breeder, Barbara Rickline of Xanthus farm- a combination of her mother (feodaLITE) and father (FLY til dawn)- she was one OTTB that lucked out on a good name- Fly Lite. And boy is it deserving. She has had to by light on her feet in many cases- from the kill pens to foster farms, she has flown lightly through many situations. I think her name represents the hardships she and many other horses have faced and therefore her name will always be Fly Lite. Although I am sure she has a lot of mental baggage, her personality shines through and helps her to go lightly and swiftly through life- dropping the baggage as soon as she can. She doesn't hold a grudge and is quick to forgive me for my mistakes and I try to be with her
She is my horse of a lifetime and has a forever home with me.
Submitted by Melissa DeCarlo Recknor
Flecken Awesome
This is "Flecken Awesome!" He is a Appaloosa/TB cross. Flecken is German for Spot… but he's so amazing I had to add the "awesome" to his name.
Submitted by Holly Breaux
Category : In the Spotlight | News Flash