"I highly recommend KPP products to those that want to give their horses every advantage in this demanding sport."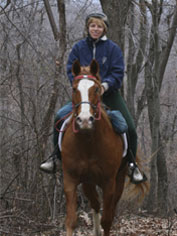 Mary Howell of New Kent, Virginia, is an accomplished endurance rider and member of the USA East Endurance Team in 2001 and 2003. She has partnered with her half-Arabian AM Baskin Count Shiloh over the last eight years. Together they've completed over 3,500 endurance miles, including numerous Top 10 finishes, 10 wins and more than a dozen one-day 100-mile rides. The pair has won eight endurance rides and has finished in the top 10 on 28 occasions.
On May 5, 2007, Mary and Shiloh placed first out of a field of 106 horses at the Biltmore 50, with a ride time of 4:32. Shiloh also received the coveted "Best Condition" award that combines ride time, rider weight, and the horse's soundness and metabolics after the ride.
"I rely on Myo-Guard  and Ker-A-Form to help my horses handle the stress of a busy endurance schedule. I've used Myo-Guard throughout Shiloh's career as a supplement between rides and during each hold to help combat muscle fatigue and minimize soreness. Myo-Guard is superior to generic vitamin E/selenium products and comes in a compact, palatable form.
"I also rely on Ker-A-Form as a daily supplement to improve hoof growth and elasticity. Endurance riding subjects the hoof wall to continual pounding on all types of surfaces, and this product helps me feel I am doing everything I can to give my horses strong hooves. The shoes seem to stay on better too, which is a good thing since Shiloh will be tackling three 50-milers in just a four-week period!
"I highly recommend KPP products to those that want to give their horses every advantage in this demanding sport."
– Mary Howell
Category : In the Spotlight | KPP Riders