"We use KPP products on everything in the barn, from our broodmares to FEI horses."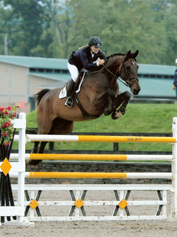 Kate Gerhart began competing on the hunter/jumper circuit in 2003 after an accomplished career showing Appaloosas in Western disciplines. Currently based out of North Ridge Farms in Sellersville, Pennsylvania, Gerhart now specializes in bringing along young jumping horses.
In 2009, Kate began showing at the Grand Prix level with her mounts Timo, Utmost ISF and Uriah ISF. As a Grand Prix rider, she has earned numerous placings at HITS Culpeper, HITS Saugerties, Garden State, Swan Lake and Monmouth. She finished off 2010 by qualifying for the Pfizer $1 Million Grand Prix at HITS-on-the-Hudson held September 12. Every horse that Gerhart has brought up through the young jumper ranks has advanced into Grand Prix competition and she has high hopes that her current young horses will do the same.
Kate has a solid background in competing with high-level performance horses. As a competitor, she recognizes when her horses need the aid of high-quality nutritional supplements. Kate Gerhart includes  Neigh-Lox, Ker-A-Form, Joint Armor, Myo-Guard, Elevate Se, Summer Games Electrolyte, Summer Games Plus  and Contribute in the feeding programs of her horses.
"We use KPP products on everything in the barn, from our broodmares to FEI horses. The supplements have allowed us to give our horses additional support when they need it most, whether that's during foaling season or leading up to a competition."
– Kate Gerhart
Kate has specific reasons for using other KPP supplements, too.
"We keep all of our training horses on Neigh-Lox because of the positive response we have seen in their behavior and health," she said. "Joint Armor  is the first supplement we've used that has actually helped us maintain joint health without additional treatment and the horses love to eat it!"
Kate's barn management tip for spring & summer:
"As the spring and summer show season kicks off, make sure to be a few steps ahead of your horse's gastrointestinal response to stress. Trailering and showing can be very hard on a horse, even those who appear to take it all in stride. We maintain all our horses that travel with us on Neigh-Lox or Neigh-Lox Advanced  because it's a very cost-effective way to get a jump on gastrointestinal health. Without Neigh-Lox  as a part of our program, we'd be forced into significantly more expensive remedies like Gastroguard or UlcerGard. Neigh-Lox helps us keep our problems at bay."
2012/2013 Update
We are actually not in FL this year. My lovely horse Timo became nuerologic last year 2 weeks before the Pfizer Million, which put us on the sidelines for the class we'd been working to qualify for all year. He underwent a bagby basket surgery in October to try to correct a narrowing at C4-5. I just started riding him again early last week, which wasn't super timing for going to FL. I'd have to leave him in someone else's hands or risk shipping him south and doing a rehab program with him while trying to show.
Being up north hasn't slowed us down though. We have a nice indoor jumper circuit in NJ that allows me to keep horses going up to 1.30m and a multitude of 'A' rated hunter show to attend. I should have a string of about 15-20 horses to show in 2013, not including the student's horses. My mother and I recently acquired a lovely 6 year old named Shannondale Presto (Sarco x Cavalier) that we look forward to bringing up through the YJC classes. Quiet Winter Farm's Zarah ISF also looks to be a promising ride for me in 2013. After a bit of a late start to her show career she is showing us tremendous promise. We also recently started working together with an investor to import young horses from Holland so we always have a steady stream of quality young stock to show and sell, in addition to the quality young homebreds we have. Of course, we hope to have Timo back in the ring at some point in the future.
Category : In the Spotlight | KPP Riders