Joint Armor helps former show pony come out of retirement.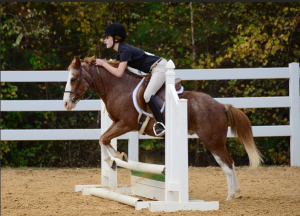 "Arizona is a 24-year-old former show pony who was living in a field by himself. He was extremely overweight and in need of a new home. We took him home and began a rigorous course of diet, limited turnout and exercise with our vet, but found he was stiff and not really happy about being in work. We began Joint Armor for him and were super impressed with not only the great smell but the limited amount needed for results. With just a tiny scoop, as directed, Arizona began to get healthier and became very active as he was feeling better. We had a few of our local 4-H kids come out and exercise him and take him to a local Hunter show. Arizona showed in the 18″ pony hunters in his first show and placed fantastic! He also won the Cloverbud walk/trot division with a beginner rider and placed in showmanship. We definitely attribute this to Joint Armor and love the small portions and great flavor for our pony."
– Lisa-Marie Beckwith
Click here to read an update on Arizona.
Lilly Bowman and Meagan Escobar aboard Arizona
Photos by PriceLess Photo-Va
Category : Customer Reviews | In the Spotlight