Congratulations to "Why I Love Eventing" Contest Winners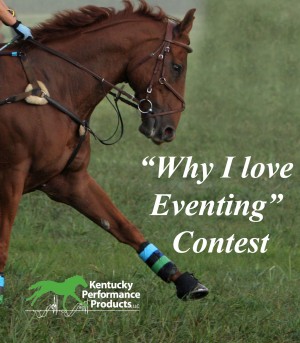 Thank you to everyone who entered. We enjoyed reading why you love the sport of eventing. After taking into consideration the votes, ratings, stories, and photos, the winners are:
1st Place – Heather McGeer
Heather wins the Hagyard Midsouth Team Challenge Event Package. The package includes one entry to the Hagyard Midsouth Team Challenge Horse Trials (CCI* or horse trials), stabling for one horse, tack stall, use of golf cart, and a room at the event's official hotel for the weekend.
2nd Place – Erin Woodall
Erins wins the Theodore O'Connor Breyer and The Team O'Connor Technique DVD, both autographed by Karen and David O'Connor.
3rd Place – Rachel Laufer
Rachel wins the Kentucky Performance Products, LLC supplement of her choice.
Congratulations to all the winners!
Category : In the Spotlight | News Flash