Congratulations to Lorraine Jackson. Lorraine is the winner of the "Does Your Horse Have a Song?" contest.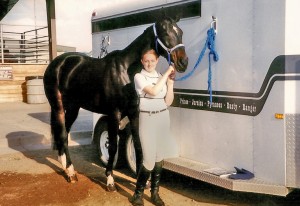 Lorraine wrote:
"I can't believe I'm about to admit this. When I was 13, I had an OTTB that my parents bought muddy out of a field. She'd been rather neglected to that point, and a year later we were sweeping Pony Club Rally awards. My theme song for her, in all its millennial teeny bopper glory, became "As Long As You Love Me" by the Backstreet Boys. "I don't care who you are, where you're from, what you did, as long as you love me." Yes, ours was the world's worst love song. Pretty sure it would still make me weepy if I heard it now."
Lorraine never thought being a Backstreet Boys fan and a horse geek would pay off.
We had a great time reading everyone's entries. Turns out a lot of horses have a song!
Category : In the Spotlight | News Flash