Ingredients that complement each other
Neigh-Lox Advanced contains a proprietary blend of ingredients that work synergistically to maintain healthy equine GI tract tissues by supporting proper pH levels throughout the tract, sustaining a favorable environment for beneficial bacteria, and supporting the healing of damaged or irritated tissues already present.
Gastric buffer and coating agents
Buffer excess gastric acid
Support the healing of damaged stomach tissues
Saccharomyces boulardii
Supports complete digestion of starch and sugars in the foregut, therefore reducing the risk of hindgut upset and acidosis caused by simple carbohydrates escaping into the hindgut
Supports healing of stomach and colonic ulceration by supplying nutrients to the gastrointestinal tissues
Maintains normal GI tract environment, which reduces or eliminates episodes of acute and chronic diarrhea
Proprietary yeast fermentation metabolites
Support a robust immune system
Support reduced inflammation and healing of damaged tissues
Supply polyphenol, nucleotides and polysterols, antioxidants that maintain healthy cell membranes and accelerate recovery after exercise
Sustain the growth and activity of beneficial bacteria throughout the GI tract
Comparative Data Chart:
See why Neigh-Lox Advanced is the leader in complete digestive tract support.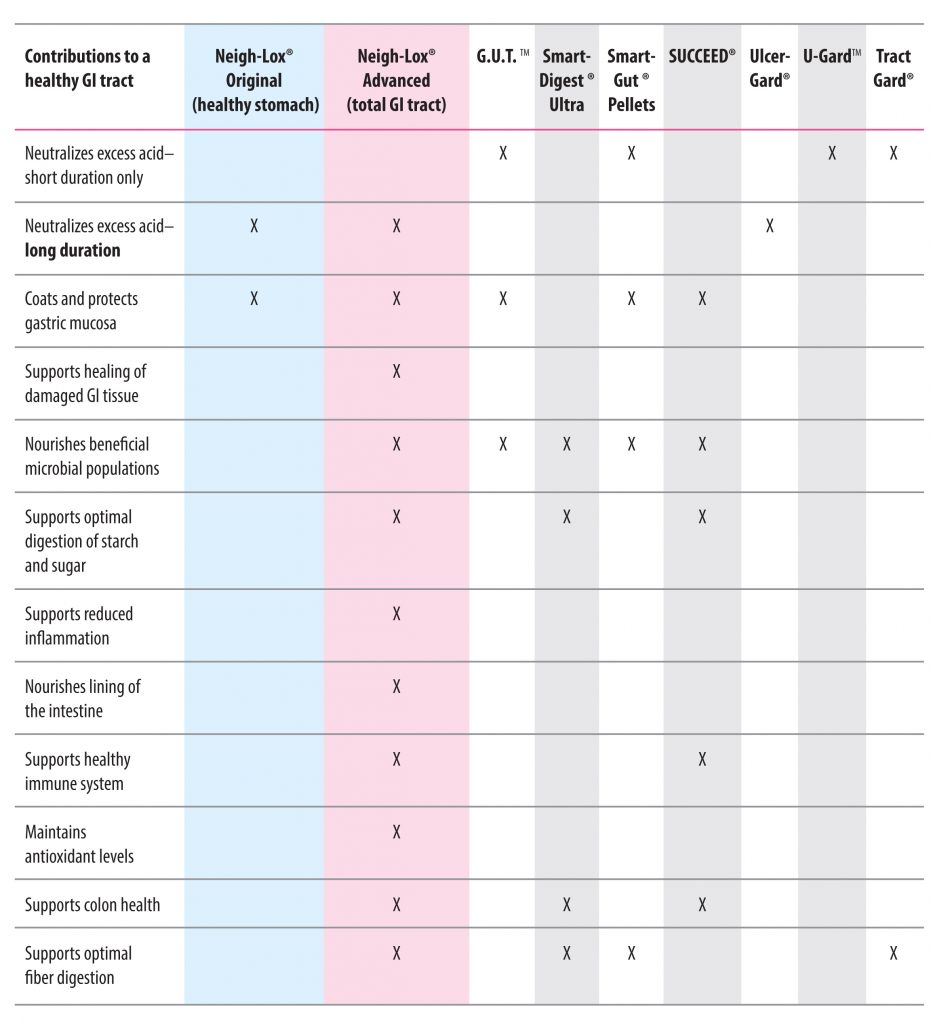 Why pay more for less? Or worse yet, pay for something that isn't addressing your horse's needs?
If your horse is suffering from gastric ulcers, choose long-acting Neigh-Lox original (look for the blue label).
If your horse has a more complex set of gastric issues, choose the complete digestive tract support found in Neigh-Lox Advanced. (look for the pink label).